Basement Waterproofing & Crawl Space Repair in Bristol, Tennessee
We not only adhere to the highest industry standards, we strive to be the industry leader in the home improvement related services we provide. We also use state-of-the-art products and technology which are designed to fix your home. We are the professional Basement Systems dealer in Bristol, TN.
Water in the basement or crawl space leads to mold, rot, musty odors and structural issues. It also leads to a reoccurring headache for you. Luckily, our trained experts are available to permanently fix the problem.
We will properly install a hidden drainage system in your Bristol basement and completely encapsulate your crawl space with CleanSpace vapor barrier. We are here to solve the problem for you.
Why Choose Us?
Lifetime Warranty on all Perimeter Waterproofing Systems
25-year Warranty on Crawl Space Encapsulation Systems
Sump Pump Installation, Repair & Replacement
Basement, Crawl Space & Spray Foam Insulation
Crawl Space & Basement Dehumidifiers
Hundreds of Satisfied Customers
Structural & Foundation Repair in Bristol
Foundation problems destroy your Bristol home's value and can be dangerous. Our in-house team of structural and geo-technical engineers are here to help. Most of the time, projects that look enormous are really caused by shifting, weakened soil that can no longer support the weight of the structure. We design and install the right solution and usually have the project finished in less than a week.
We Fix

Bowing Walls
Sagging Floors
Stair-Step Cracks
Tilting Chimneys
Foundation Cracks
Garage Slabs

We Use


Wall Anchors
Slab Piers
I-Beam Wall Braces
Helical Deck Piers
Sticking Windows
Underpinning
Concrete Leveling & Slab Jacking in Bristol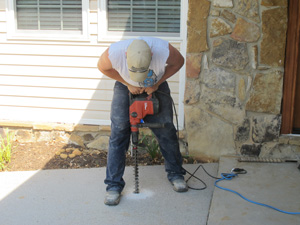 The sunken and cracked concrete around your Bristol home is both an eyesore and a safety hazard. It is also likely to get worse, but we can fix it for you.
We use slab jacking or mudjacking for smaller jobs such as leveling sidewalks, patios, driveways, and pool decks. Precise holes are drilled into your slab. Then a specialized mortar-like grout or "mud" is pumped, under pressure, to raise and level your slab. The holes are filled with concrete and troweled smooth. Most jobs can be completed in one day. For larger jobs we use slab piers. These can be used to correct large sections of concrete such as warehouse slabs. Call us today to learn more.
We Fix

Cracked Driveways
Uneven Patios
Sinking Sidewalks




Uneven Concrete
Sunken Pool Decks
Warehouse Slabs
Master Service Companies has the tools and the expertise to get the job done right the first time. Trust our friendly, knowledgeable staff and professional technicians to find a solution that will work best for you. Call us today for a free estimate!